According to the Centers for Disease Control, the United States experienced a record number of measles cases during 2014,
with 644 cases from 27 separate states
. In 2015, already
121 cases
have been reported. This leaves parents asking the important question "Should I va
ccinate my children?"
Our friends at Kids In The House have interviewed many experts on this specific question so you have the information you need to make this important decision for your family. We recently partnered with Kids In The House and are releasing a special segment from the upcoming
Baby Care 101 DVD
with advice from Wendy Haldeman and Corky Harvey on the decision to vaccinate your children. Below you will find this short video along with other important videos on vaccinations from top medical experts.
Check out these other videos put together by Kids In The House of local and national pediatricians and professionals on vaccinations.
View all videos by clicking here
.
Dr. Larry Ross
is a pediatrician and expert in infectious diseases at Children's Hospital Los Angeles. He explains how herd immunity helps prevent the transmission of diseases such as measles, rubella, and whooping cough.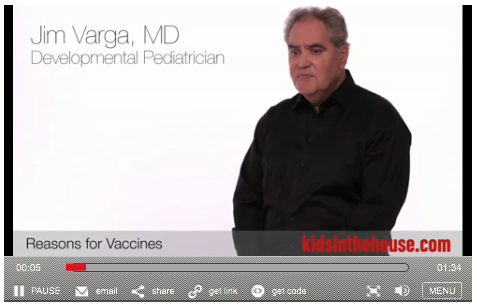 Dr. James Varga
has been a pediatrician since 1977. He explains the effects vaccines have had throughout the past few decades.
Professor Leonardo Trasande
is an associate professor at the NYU School of Medicine. He explains the research behind the vaccines and their suspected link to autism.
Dr. Lawrence Kagan
is a pediatrician who has worked both at the Children's Hospital Los Angeles and Cedars Sinai Urgent Care. He explains vaccination schedules and why they are important.
Dear Pump Station & Nurtury™ Family,
We're always focused on the health & wellness of our clients and our team, and we value your suggestions. Please know that The Pump Station™ is continuing to monitor developments of the measles spread and consulting with medical advisors about appropriate precautions. We have always been very careful in keeping our store surfaces clean and we will continue to do so, as there is always something going around, whether it is the flu or a summer cold.
In spite of the extensive media coverage, overall infection rates remain extremely low. We have consulted with several well respected local pediatricians who have assured us that there is no need for widespread concern, and that our classrooms continue to be safe and appropriate places for our groups to gather.
As many of you know, breastfeeding helps maintain maternal antibodies in babies. If you have been immunized, some of this protection is passed on to newborns and infants up to about 6 months of age. However, babies are not offered the vaccine until the age of 12-15 months, which makes them more vulnerable than the general population. In addition, we have been advised that if an infant is too young to be immunized and they also have a sibling or parent who is not immunized, they will carry a higher risk than they otherwise would. The advice of the American Academy of Pediatrics, and virtually every significant public health organization, concerning the MMR vaccination is unequivocal: "We know from many repeated studies that the MMR vaccine is safe and effective. It is in fact one of the most effective vaccines we have." - AAP
If we can be of any help over the phone, or in your home, please let us know, as our staff is available for phone or home consultations.
Thank you for your continued support, and we look forward to seeing you soon.
Sincerely,
Corky Harvey, Co-Founder, MS, RN, IBCLC
Wendy Haldeman, Co-Founder, MN, RN, IBCLC
Cheryl Petran, CEO